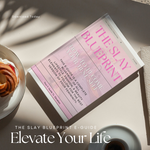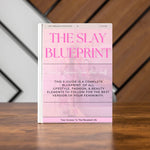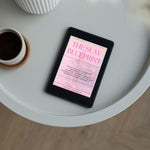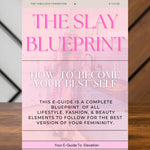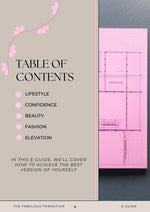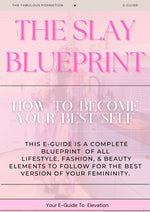 The Slay Blueprint Guide is a must-have for curating your ultimate feminine experience. With fashion, lifestyle, confidence-building, spiritual, and beauty guidance, you'll soon be feeling like your most beautiful, empowered self! Take a journey to your fabulous transformation and discover true confidence with the Slay Blueprint.
Boost Your Confidence: Learn tried-and-true strategies to silence self-doubt, build unshakeable self-esteem, and exude the magnetic confidence that draws success your way.
 Elevate Your Life: Discover practical steps to elevate every aspect of your life, from your career and relationships to your health and well-being. Say goodbye to mediocrity and hello to a life of fulfillment and achievement.
Manifest Abundance: Unleash the power of manifestation and abundance by tapping into your inner potential. Create a life filled with prosperity, joy, and limitless opportunities.
Learn how lifestyle, beauty, fashion, & mental health all eventually are related and gain complete structure on elevating your life's experience.
This is a full E-guide of 37 pages including a self-care schedule, cleaning schedule, work-book, and wellness schedule to become your best self and keep you on the right track to your elevation. 

Image gallery
About
SDesirebrand was created to empower women to stay fabulous by celebrating their confidence and femininity with lifestyle and transitional fashion essentials that can be worn for at-home loungewear, leisurewear, vacations, or day to night outings. Whether it is luxurious satin robes that make women feel fabulous while lounging around their homes, slay essentials to accessorize and elevate their look, or sip essentials that they can sip pretty with at home or on the go. The goal is to keep women vibrating on a high frequency so they can live a life of luxury.